Create surveys and questionnaires
Create and process surveys and questionnaires easily and quickly with the FormFabric survey tool. With FormFabric, you no longer have to spend hours processing and analyzing completed surveys during your research. Instead, the surveys are stored digitally and are immediately ready to be processed for analysis.
FormFabric allows you to easily conduct market research and request data from large groups of respondents, without wasting time entering the collected data. This way you can immediately start processing the data and design the research.
Design surveys with our visual designer
With the innovative FormFabric survey tool, you can easily create extensive and complex surveys and questionnaires without having any technical knowledge. Use various question types and create different paths, depending on the answers your subjects have entered.
Get everything out of your target group
Determine your target group and send the surveys to collect data with FormFabric. Set up automatic reminders to increase the response within the target group and to collect more useful data for market research.
Create surveys quickly
Remain in control and adjust your surveys and questionnaires with a few clicks. Creating surveys is easier than ever with FormFabric.
GDPR proof
Collected data is exclusively stored in data centers within the European Union and meets all the conditions of the GDPR framework. This way you no longer have to worry about the processing of the collected data.
Instantly analyze
You no longer have to spend time entering data that you have collected with your surveys. FormFabric can be seamlessly integrated with websites and back-end systems, so that the collected data is immediately ready for analysis.
No technical knowledge required
FormFabric has developed a powerful application that is easily accessible and easy to use. Without technical knowledge, you can create extensive surveys that can answer complex issues.
Suitable for all devices
FormFabric makes digitizing surveys simple for researchers, and completing the surveys simple for respondents. The surveys can be completed on a computer, tablet or smartphone, with user friendliness always being the most important consideration.
Export data for analysis
In addition to the extensive integration options with your own back-end systems, it is also possible to export the collected data for analysis. Streamline market research with FormFabric and find the answers you are looking for more easily.
Perform targeted and efficient research
A cause of headaches for many researchers is the processing of collected data. A large amount of paperwork still needs to be collected and processed in various investigations. With FormFabric, this process is significantly accelerated and simplified.
Surveys and forms can be accurately digitized and, moreover, optimized. Integrate the form with your own website and systems to have the collected data directly in the right place, so that you can immediately start analyzing the data.
Through FormFabric's software, it is possible to conduct (market) research faster and more efficiently. This not only saves time, but also money.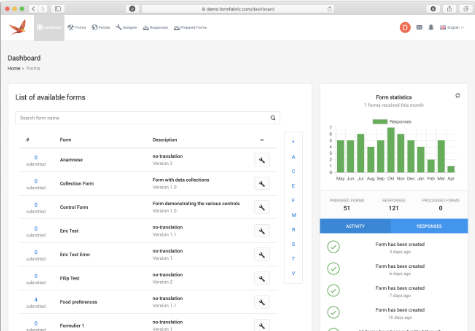 Create surveys without paperwork
With FormFabric, you can create online surveys and publish them directly. Thanks to the innovative visual design functionality, adjustments can be implemented quickly when initial analysis show that this is necessary. This way you can react quickly to findings, saving you valuable time.
Because the surveys can be completed on different devices, you can distribute your surveys everywhere, without compromising on efficiency for data processing and storage.
FormFabric is the ideal partner for every researcher.