Form Builder Software for Healthcare Institutions
Make formulating questionnaires and forms simple with the innovative FormFabric software. Using the visual designer of FormFabric, compile questionnaires and forms that can easily be filled in digitally by patients.
With FormFabric's form builder software, complex questionnaires with multiple possible paths can be created with a few clicks. Easily maintain an overview and make adjustments where possible. Existing questionnaires or forms can be digitized with FormFabric.
With FormFabric, the process of data processing is more streamlined and more clear. This saves valuable time, which can be used to provide better healthcare for patients.
Benefits of FormFabric form builder
Digitize complex questionnaires and forms
Many healthcare institutions still work with extensive paper questionnaires and forms. Not only do these provide more work and risk for storage, paper forms also delay data processing. With the digital forms and questionnaires of FormFabric, this is a problem of the past.
Link with backend
To streamline the processing of entered data, FormFabric can easily be integrated with own backend systems. As a result, FormFabric's surveys, forms and questionnaires become one whole with its own software.
Create questionnaires and forms without technical knowledge
Because FormFabric has created an intuitive visual design tool to easily create forms and questionnaires, there is no extensive technical knowledge required for using our form builder. Complex forms can be generated with a few clicks,and will immediately be ready to use.
APIs for customization
Every healthcare institution has different wishes and requirements. That is why FormFabric has developed APIs that can be linked to back-end systems. Process the forms and questionnaires the way you want.
Publish and integrate forms on your website
Created forms or questionnaires can be published directly on your website. The forms and questionnaires can be seamlessly integrated and thus made available to patients in the short term.
GDPR proof
Data collected with FormFabric questionnaires, forms or surveys is stored exclusively in data centers within the European Union and meets the conditions of GDPR framework.
Version management
Does an adjustment need to be made to a form in the near future? With FormFabric, you can schedule changes and thus always be up-to-date with changes in legislation or regulations.
Export data
Collected data can easily be exported in order to be extensively processed using analytic software.
Improve the care provided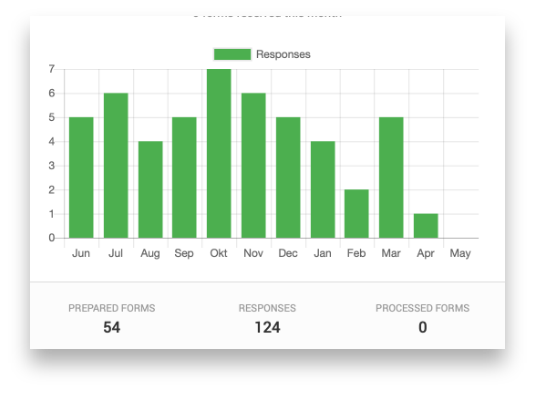 Patients of your healthcare institution are confronted with various forms and questionnaires, intended to offer optimal care. With FormFabric, the distribution, completion and processing of these forms can be significantly accelerated, while reducing the risk of loss or incorrect processing of information.
With this system, it's not only pleasant for the person in need of care to be able to fill in a form digitally, it's also efficient for the care institution. The output of forms ends up directly in the appropriate systems, after which it can be read and processed.
By integrating FormFabric with existing systems, your healthcare institution will experience increased professionalization, time and money saving, and above all, an improved overall standard of care for your patients.
Create extensive questionnaires and forms
With the visual designer of FormFabric, you can create extensive questionnaires and forms, exactly as the situation requires. Implement different question types and paths, so that you can always collect the exact information you need to be able to offer the best care to patients.
Within a healthcare institution, dozens of different forms are issued every day that must be completed. With FormFabric, you can also design and publish an unlimited number of forms and questionnaires. Thanks to the seamless integration with your own systems, the completed forms and questionnaires always end up in the right place immediately.
If you unexpectedly encounter a difficult issue while creating forms, then the FormFabric customer service team is ready to help immediately.